Sharing Our Little Slice of Heaven
With You!
 When looking for the perfect, private and relaxing Hill Country getaway, look no farther than The Bandera Stronghold. Our cabins for 2, (3 to 4 with provided rollaway beds) are nestled above beautiful, spring fed Mason Creek on 8.5 tree filled acres.
This hidden gem in Bandera, Texas has pristine, cool running water year round – even in summer droughts! We are located 5 miles from downtown Bandera and within an hour's drive from many other Hill Country destinations.
Bring a fishing pole for a little "catch and release" fishing in water so clear you can see the Catfish, Bass, and Perch. The creek is great for swimming, floating, or just lounging on the limestone bank.
CABIN DETAILS
A short list of the cabin features
home

Cozy, Quiet Setting

moon

Star Gazing

bone

PETS ALLOWED

bird

Wildlife
The cabins, Red Cloud and Crazy Horse, both have views of the creek and hot tubs on spacious back decks – great for star gazing at night or bird watching during the day. Furnished with a simple, rustic elegance, you will enjoy relaxing inside as well as outside. Full kitchens are stocked with condiments, coffee, creamer and sugar. We are on-site hosts and happy to share anything you might need or have forgotten.
Wildlife is abundant with White Tail and Axis deer making multiple creek crossings daily. Water fowl – Black Bellied Whistling Ducks, Canadian Geese and Egyptian Geese often grace the creek and fly overhead. Sit back and quietly watch the shy Great Blue Heron, Green Heron and Great Egrets fish the crystal clear waters. Songbirds are so abundant it's a symphony all day long. Hummingbirds literally swarm the feeders during the summer and turkeys flock in the winter.
AMENITIES
Both our cabins offer numerous amenities to make your stay relaxing and comfortable.
Central AC/Heat
Full Kitchen
BBQ Pits
Full Bath
TV monitor w/DVD Player
Radio w/ Bluetooth/CD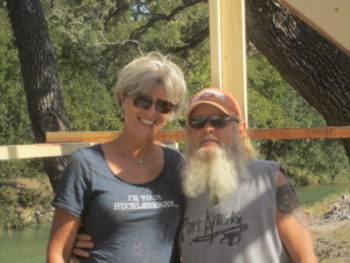 Jon & Tricia Martin
Jon and Tricia take pride in offering the best getaway cabins in the area.
love
260

CLIENTS

satisfied
picture
PICTURESQUE
views
moon
RELAX
Country Setting
REVIEWS
This is what our guests think
The setting is just gorgeous. You have the perfect, serene view off the back deck, which overlooks a beautiful creek. We also so saw so much wildlife (lost count of the deer that we saw)! We thoroughly loved the hot tub and the view we had from it. We will definitely come back to stay at this "little slice of heaven"!
Lisa, Mark, Ashley & Amanda, Helotes, TX
-

March 2014
My husband and I had such a wonderful & blessed weekend here! Very cozy, peaceful & enjoyable stay. We always go prepared, but maybe next time we will not bring so much - you had everything we needed!!... Again, thank you and we will definitely come here again!
Paul & Belinda Z.
-

December 2015
What a great sister weekend. Loved the cabin & looking forward to coming back & enjoying the deck!
Marcy & Elaine, Georgetown, TX
-

November 2013
We had the perfect night following our wedding this afternoon, which capped an incredibly wonderful day...
Stephen and Jacqueline
-

November 2013
Thanks for an amazing 7 blissful days! Your 'lil Slice of Heaven was exactly what my soul was crying out for. Leaving renewed, inspired and ever thankful. Thank you for sharing!!
Theresa & Rooster, Monahans, TX
-

September 2015
Wow is the only thing that I can think of to say. We stayed at The Stronghold to just get away from the everyday. This place is truly a "slice of Heaven" in the Hill Country.
Terry & Brian, Austin, TX
-

December 2013
We loved our weekend getaway here at Red Cloud cabin. My husband and I loved watching he creek and wildlife. We saw deer crossing and a few armadillos in the evening. Our chihuahua & dachshund had so much fun exploring the property and chasing the birds. Perfect escape to the country...Thanks for sharing your beautiful property with us!
Kacey & Brett G.
-

February 2016
This place is just what you need to getaway & relax. Delta loved the water and land. From every detail here - the hot tub, fire pit and waterfront property, made the Red Cloud Cabin an annual trip for us. Thank you two for a great stay!
Krystle & Stephen
-

October 2015
LOCATION
Nestled on 8.5 acres above spring fed Mason Creek, 5 miles from downtown Bandera, Texas
DETAILS
Bandera Stronghold
615 Deer Valley
Bandera TX 78003
Telephone: 512-677-0617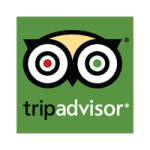 Our driveway improvement is in progress. It's a long, winding tree lined road that should cause you to slow down and begin the relaxation process! We can still experience some muddy areas in rainy weather, but stumps and bumps have been removed and base is down on over half of it.